Text 'borrowed' from someplace unrecorded – sorry chaps!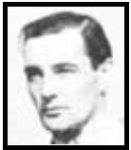 Born in Dulwich, London on 24th November 1913 (according to 1939 register), the son of William and Millicent CARNABY (née FLEMING) of 19 Uffington Road, West Norwood, late 1930's at 24 The Avenue, Norwood, London SE19. He was educated at Uppingham School and Christ's College, Cambridge where he read Economics and Law. He learned to fly with the University Air Squadron at Duxford. He then went to London to study for a Chartered Surveyor qualification with a view to joining his father's firm, Marten and Carnaby.
He was married to Mary SADLER in Q2-1938 in Marylebone. They lived at Doonside, High Street, Newmarket. Their daughter Susan and son William were both born in Newmarket. 
In the 1939 register, a chartered surveyor, he was at Boyarin Lodge, Bury Road, Newmarket with his wife Mary [1-1-1913] (who later married George ALDERMAN (Cheltenham 1947), then Frederick DAY(Kensington 1973)) and her widowed mother Ada SADLER [13-4-1877].
He joined 601 Squadron Auxiliary Air Force at Hendon in 1935 and was commissioned in January 1936. He relinquished this commission on 1st March 1938 in favour for a four-year commission in the Auxiliary Air Force Reserve of Officers. 
He was called up on 31st August 1939 and posted to 264 Squadron, operating Boulton Paul Defiants from Duxford. On 7th June 1940 he was flying Defiant L7004 which had been damaged over Dunkirk on 29th May. The damage had not been fully repaired and the aircraft went out of control. William and his gunner, P/O Ellery, were able to bale out but Ellery was seriously injured. William was admitted to Duxford Sick Quarters then transferred to Littleport Hospital. 
On 28th August 1940 William had his Defiant severely damaged by return fire from a He111 engaged over Dover but managed to return to base. He was on the last day-light operation flown by the Defiants in the Battle of Britain. The rose on the ribbon of his 1939-45 star signifies his service in the Battle of Britain. 
In September he joined 85 Squadron at Castle Camps when it went over to night-fighting, before moving on to 25 Squadron on Mosquitoes. 
He was flying De Havilland Mosquito Mk NF2 HJ918, c/s VY-?, on 5th February 1943 when it broke up in mid air and crashed 2 miles east of RAF Church Fenton. Also killed with him was Flying Officer James Hector Lennox-Kemp.