Richard Michael Bernard Rowley was born on 4th June 1915 in London and educated at Eton and New College, Oxford where he read History. He was a member of the University Air Squadron.
He joined 601 Squadron Auxiliary Air Force in late 1937 and was commissioned in February 1938.
On 11th February 1939 he married Lady Sibell Lygon at Brompton Oratory (below).
Called up on 25th August 1939, Rowley completed his training and was serving with 601 Squadron by January 1940.
He was one of the 601 Squadron pilots detailed to stage from Tangmere to Hawkinge on 11th May 1940 from where they flew an uneventful patrol over Belgium and Holland.
On 17th May a number of 601 pilots flew to Merville in France to reinforce 3 Squadron, Rowley being posted to 'B' Flight. They returned to Tangmere on 22nd May.
He moved to 145 Squadron, also at Tangmere, on 1st June 1940. Rowley probably destroyed a Do17 on 12th August. He took temporary command of 'A' Flight of 145 on 28th August 28 when F/Lt. RG Dutton was posted non-effective sick.
This appointment was confirmed in September. On 30th October Rowley was posted away. He relinquished command of 'A' Flight, which was taken over by F/Lt. W Riley, posted to 145 from 302 Squadron.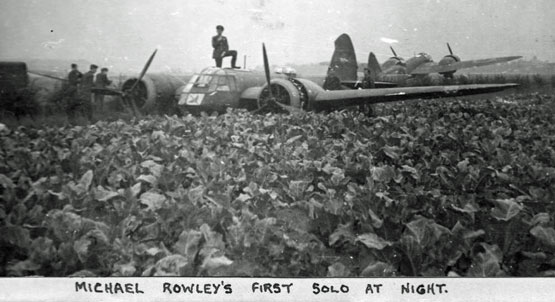 His subsequent service is currently undocumented but he resigned his commission on 16th September 1941 because of ill-health.
He deteriorated further until dying of a brain tumour on 19th September 1952.
He is buried at St. Mary the Virgin churchyard at Madresfield, Worcestershire, his headstone bears the 601 Squadron badge.