JOHN KESWIK ULICK BLAKE McGRATH
John Keswick Ulick Blake McGrath was born in Tonbridge, Kent on 19th November 1919 and attended Harrow School from 1933 to 1937.
He joined 601 Squadron Auxiliary Air Force at Hendon on 1st January 1939 and began his flying training. McGrath was called to full-time service on 25th August and commissioned. He was posted to 6 FTS Little Rissington on 7th September 1939 for further training.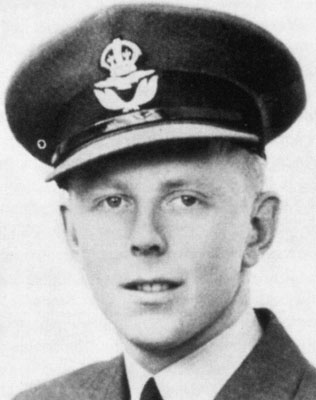 On 5th May 1940 he rejoined 601 Squadron at Hendon. On 22nd May, when he destroyed a Me109 over Arras, McGrath was with 'B' Flight of 601, detached that day from Tangmere to operate from Manston. Over Dunkirk on the 27th McGrath destroyed a Me109 and probably a second and on the 30th he destroyed a Me110 and probably another.
On 11th July McGrath claimed a He111 destroyed, on 8th August two Me109's, on the 11th he got two probable Me110's, on the 13th a Ju88 destroyed and probably another, two Me110's destroyed and another damaged and a Me109 damaged, on the 14th a Do17 and a Me109 destroyed and a Ju88 damaged and on the 15th a Ju88 destroyed and another damaged.
In the early evening of 15th August McGrath was shot down and crashed near Selsey in Hurricane V7253. He later returned to Tangmere, injured. He was non-effective sick from 16th August and was admitted to the RAF Officers Hospital Halton on 8th November 1940.
He did not fly again with 601 or operationally with the RAF.
McGrath was awarded the DFC (gazetted 27th August 1940).
He was posted to the operations room at RAF Exeter on 2nd February 1941 and moved to that at RAF Middle Wallop on 22nd July.
McGrath went to RAF Sopley on 22nd September 1941, in charge of the GCI unit. He was posted to HQ Fighter Command on 6th December 1943, moving in December 1944 to HQ ADGB and remained there until 24th November 1945. He was released in January 1946 as a Squadron Leader.
McGrath became a travel agent.

He died on 17th June 1981.