Born in London, and educated at Eton, Norman was the son of Air Commodore Sir Nigel Norman, co-founder of the Royal Auxiliary Air Force and a leading figure in the building of airports at Gatwick, Manchester, Birmingham and Heston, which became Heathrow.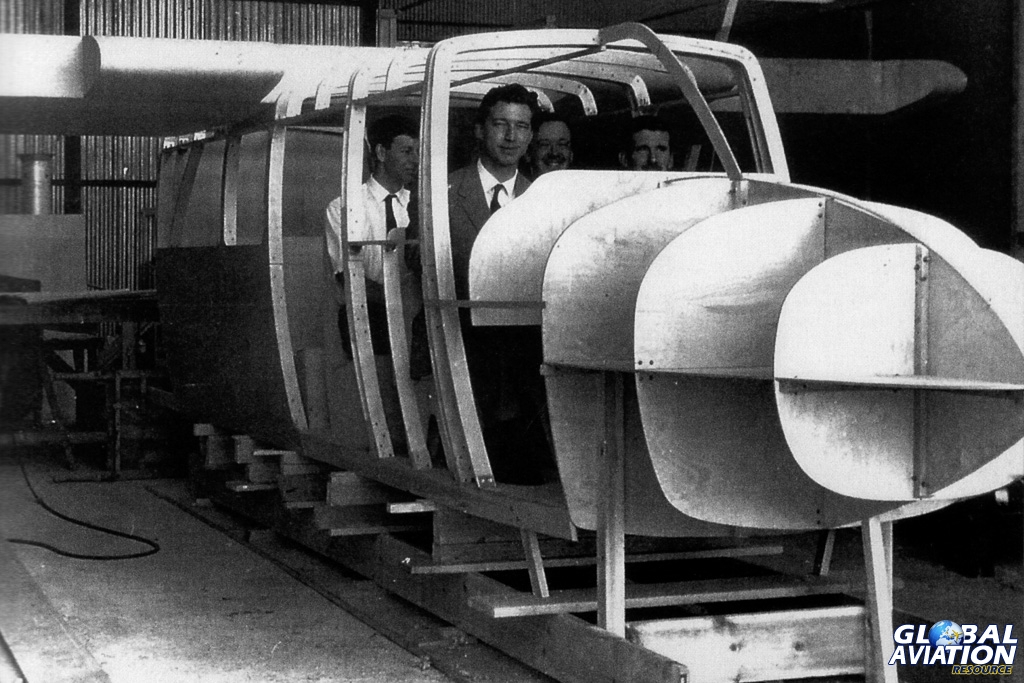 After national service as a fighter pilot, he joined 601 squadron of the auxiliary air force with his two brothers, who were equally tall and dashing. On the occasion of the youngest brother's passing-out parade, Norman and his other brother,Mark, flew to the ceremony in their fighter planes, having changed into their morning coats.
It was while studying aeronautical engineering at the de Havilland Aeronautical Technical School, between 1946 and 1950, that he met Britten. They made a brilliant team, powered by Norman's personality and energy. Their first aircraft never quite flew properly, but this failure did nothing to quell the pair's enthusiasm. Aircraft design was Norman's life, and none of the many setbacks he encountered ever dampened his passion.
Norman and Britten's first major breakthrough was in the design of a crop sprayer, using revolutionary technology. They had teamed up with the Australian Jim McMahon, converting war surplus Tiger Moths and fitting them with the new Micronair rotary atomiser, which was ecologically less damaging and more economical for crop spraying, as it used only two pints of insecticide per acre instead of 10 gallons.
Norman and McMahon flew to the Sudan in 1956, at the height of the Suez crisis, to market their crop-spraying aircraft. They travelled via Cairo, where they were unexpectedly arrested and kept under guard in their hotel. Only Norman's charm and eloquence persuaded their captors to let them go on to Sudan. The day after they left Cairo, Egypt was invaded.
In Sudan, the pair found a huge market for their crop sprayers, which revolutionised agriculture in the region. When they demonstrated the invention to banana growers in Guinea, they were rather surprised when the French farmers hugged and kissed each other, overjoyed at the arrival of technology they had dreamed of.
The success of the crop sprayer funded the realization of Britten and Norman's dream: to design and build an aeroplane. At the time, there was no other aircraft that filled its remit, and Norman foresaw the market potential of an island-hopping passenger plane. A prototype, the G-ATCT, was completed within nine months and made its maiden flight in June 1965, with Britten and Norman at the controls. After modifications – the engine power was increased and the wingspan was extended by four feet – the plane that became the Islander took off in December 1965 from Bembridge airfield, on the Isle of Wight.
Fearing that the aircraft would not be ready to launch at the 1966 Farnborough air show, the 300 Britten-Norman employees worked through their annual holiday to complete the project. A no-frills aircraft, designed to take off and land on unprepared strips within a very short distance, the Islander quickly became popular worldwide, and was dubbed the Land-Rover of the air. More than 1,250 have been sold, of which some 800 are still in service.
Britten and Norman followed up the Islander with a larger version called the Trislander, which also had an immediate uptake. Sadly, just at the moment of the team's real taste of success in the early 1970s, the bank called in its loan, and the pair were forced to sell their company.
Norman was never bitter about the unnecessary foreclosure; it was not in his nature to look back. He had considered writing his memoirs, but was always far more interested in the next project. Indeed, his latest design was due to go into production next year.
He designed a trainer aircraft for military use, which was built at his home on the Isle of Wight. The project spilt over into his private life: the kitchen table at his house was always covered in designs, and, in a restaurant, the waiter would often be sent off for a supply of paper napkins to catch his fast-flowing ideas. Norman was unstoppably creative, constantly jotting down ideas on scrap paper or his Gauloises packets.
He also had a passion for Norton motorcycles, which dated from his schooldays at Eton, when he quite illegally owned a Manx Norton, which he used to race from college to Hyde Park Corner, in central London. He was still riding into his 70s.
Norman was appointed a CBE in 1970. He was a tremendously generous and engaging host, and the house he shared with his second wife, Bo, was always full of people, usually including some of Norman's six children. His unorthodox and original mind made him excellent company.
He maried first, Anne Fogg Elliot, with whom he had two sons, and then in 1965, Boel Elizabeth Holmsen, who gave him two daughters and two sons. His aviating partner Britten died in 1979, aged 49. Desmond Norman died in 2002.